Welcome to September my lovelies.
I have so much to fill you in on... but first lemme share this
link
.
now he has launched his own range of cosmetics... Wow...
---"Vybz Kartel has previously explained that his use of skin lightener is purely for style – that he sees it as being no different from women straightening their hair – and in an interview with Rolling Stone magazine he made his feelings on the subject clear: "I have said in a statement that when everyone stops doing all of that shit, we can all live naturally ever after. But until then, fuck you all.""---- The Guardian, Sep 7, 2011
They don't look too bad... simple labelling, (very) interesting colours.. nice frosted glass aluminum top combo - not bad...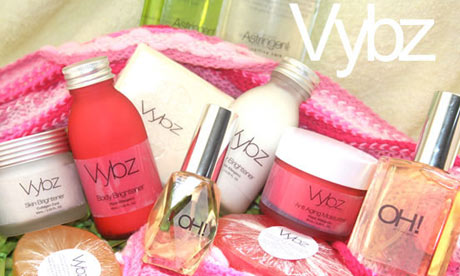 but I'm still not buying it. I'm happy in my own skin thanks - as mottled, or scarred, or pitted and pock-marked as it might be. I will however continue to watch in interest, particularly to see whether this brand takes off -because if it does, it will definitely be telling us all something.
Related Articles
---
WELCOME TO THE TAPESTRY OF ME.... These are my words and this is my journey, from 'there to hair'! My life, the lessons learned in and through love and loves ones; and my hair affairs. http://lovelifelocks.blogspot.com